Abstract
This paper attempts to analyse the scheme which states the pay, benefits, and insurance offered to Anganwadi workers as well as their working conditions. There have been protests in multiple states about pending salaries and less salaries which doesn't justify the long hours of work they do, they want their honorarium to be increased with regards to inflation in India. 
The acknowledgement of Anganwadi workers as government employees rather than honorary volunteers is must, and their recognition became even more necessary after covid-19 pandemic as they were the frontline workers. This paper also highlights the recommendations that should be taken up for better conditions of workers and better collaboration of these workers with the government.  
Introduction
Anganwadi Workers & Helpers are the honorary workers from the local community who volunteer to provide their services on a part-time basis under the umbrella of the Integrated Child Development Services (ICDS) Scheme in the field of child development, primary healthcare, provision of healthcare to pregnant women and nursing mothers. As honorary employees, they get monthly honoraria as occasionally approved by the government. According to government data (2019), around 13 lakhs Anganwadi Workers and around 12 lakhs Anganwadi Helpers have been authorised in the nation. To ensure that the ICDS system functions from the grassroot level, Anganwadi Workers and Anganwadi Helpers are distributed around the States and UTs in India.
Around 158 million children, who are regarded as the "future resource of the country," have their nutritional requirements met by Anganwadi workers and helpers. In accordance with the National Food Security Act of 2013 and the ICDS, they carry out a variety of crucial activities at the grassroot level and often serve as a bridge between the government and beneficiaries, making Anganwadi workers as the backbone of the ICDS. Additionally they also serve in disadvantaged areas, meeting the needs of underprivileged groups. 
ICDS Scheme
The Ministry of Women and Child Development has implemented various schemes for welfare, development and protection of children, and one such scheme is ICDS (Integrated Child development services). Anganwadi services has been launched under the umbrella ICDS scheme in which children in the age group 0-6 years constitute around 158 million of the population of India (2011 census).
Launched on 2nd October, 1975, the Integrated Child Development Services (ICDS) Scheme is one of the flagship programmes of the Government of India and represents one of the world's largest and unique programmes for early childhood care and development. It is the foremost symbol of a country's commitment to its children and nursing mothers, as a response to the challenge of providing pre-school non-formal education on one hand and breaking the vicious cycle of malnutrition, morbidity, reduced learning capacity and mortality on the other. The beneficiaries under the Scheme are children in the age group of 0-6 years, pregnant women and lactating mothers. Objectives of the Scheme are-
To improve the nutritional and health status of children in the age group of 0-6 years.

To lay the foundation for proper psychological, physical and social development of the child.

To reduce the incidence of mortality, morbidity, malnutrition and school dropout.

To achieve effective coordination of policy and implementation amongst various departments to promote child development.

To enhance the capability of the mother to look after the normal health and nutritional needs of the child through proper nutrition and health education.
These objectives are made possible by Anganwadi workers and helpers who provide and assist in these services. The table below provides the list of services that are being given to certain target groups by AWWs/AWHs.
Honorarium to Anganwadi workers
Under the current report of "Saksham Anganwadi and Poshan 2.0," the strategic intervention to address malnutrition concerns, released on August 1, 2022, includes a detailed mention of the honorarium distribution among the Anganwadi helpers and Anganwadi workers, which varies at state and union territory levels.
According to this, Government is providing honorarium to Anganwadi Workers (AWWs) @ ₹4,500/- per month; AWWs at mini-AWCs @ ₹ 3,500/- per month; and Anganwadi Helpers (AWHs)@ ₹ 2,250/- per month. 
The Government is also providing a performance linked incentive of ₹ 250/- per month to AWHs which was effective from 1st October, 2018. AWWs are paid a performance linked incentive of ₹ 500/- per month for using ICDS-CAS (Common Application Software) under POSHAN Abhiyan. 
For any additional work assigned to them from time to time, the States/UTs provide monetary incentives and are also paying additional honorarium to these functionaries out of their own resources.
Payment of honorarium to AWWs/AWHs is at the following cost sharing ratio between Centre and States/UTs:
| | |
| --- | --- |
| States & UTs (with legislature)  | 60:40 |
| 8 NE &3 Himalayan States and UT of J&K | 90:10 |
| UTs (without Legislature) | 100:00  |
The Justification of being honorary workers instead of government workers is given that the Anganwadi Workers & Helpers are honorary workers from the local community who come forward to render their services, on part time basis, in the area of child care and development. 
As honorary workers, the AWWs and AWHs cannot be declared as "Government Employees/Regular Employees" or extend the benefits as admissible to employees of the Government.
Further, the Supreme Court of India in its ruling of 07.12.2006 in Civil Appeal No. 4953-4957 of 1998 State of Karnataka & Ors. Vs. Ameerbi & Ors. The Hon'ble Supreme Court has also held that AWWs/AWHs do not hold any civil post.
Facilities for workers
In addition to the honorarium paid by the Government of India, the AWWs/AWHs are also provided benefits as given below:
Paid absence of 180 days of maternity leave.

A set of two Uniforms (saree/suit @ Rs. 400/- per saree per annum).

Coverage under Pradhan Mantri Jeevan Jyoti Bima Yojana (PMJJBY) for AWWs/AWHs in the age group of 18-50 years;

Coverage under Pradhan Mantri Suraksha Bima Yojana (PMSBY) for AWWs/AWHs in the age group of 18-59 years.

Modified Anganwadi Karyakarti Bima Yojana (AKBY) for AWWs/AWHs in the age group of 51-59 years (closed group as on 01.06.2017).

Female Critical Illness benefits of ₹ 20,000/- on diagnosis of identified illness.

Scholarships to their children studying in 9

th

to 12

th

Standard (including ITI courses).

Government of India has introduced Pradhan Mantri Shram Yogi Maan-Dhan (PM-SYM) Pension Scheme for the unorganised sectors in the country to ensure old age protection envisaging assured pension of ₹3,000/- per month on attaining the age of 60 years. PM-SYM is a voluntary and contributory pension scheme on 50:50 basis where prescribed age-specific contribution shall be made by the beneficiary and the matching contribution by the Central Government for availing the assured pension of ₹3,000/- per month on attaining the age of 60 years. 
Most of the States/UTs are also giving monetary incentives to these workers out of their own resources. The table below presents the additional honorarium being paid by States/UTs to AWWs and AWHs during the year 2020 and is still continued currently.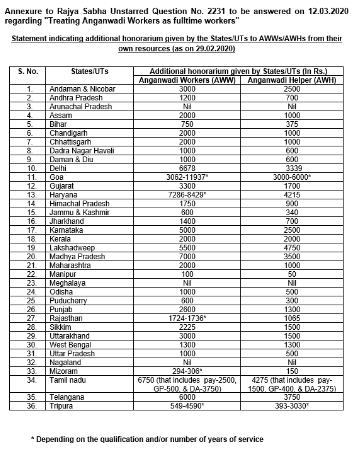 Why is a change or update of the Anganwadi services under this Scheme necessary?
The change is necessary because even after all these provisions, there are still Anganwadi Workers unions demanding safety, insurance, risk allowance and fixed wage. They are not satisfied with the scheme and it is really problematic that the promises made by this scheme have not yet been received by these workers. The salary or honorarium is unchanged since 2017; it hasn't been raised to reflect inflation or the added workload and some states still owe pending salaries to Anganwadi workers and helpers. To meet the demands and increase their trust in the government, this scheme should be redefined in terms of honorarium and to understand whether the benefits are being received by these workers. To provide these women a reason to continue working as Anganwadi workers, the policy must be updated to recognise them as frontline government employees.
Identification of issues for AWWs (Anganwadi workers)/AWHs (Anganwadi Helpers)
The first issue is the dissatisfaction of honorarium that the workers are receiving, according to them it's not enough as per the amount of work they do and is not enough to meet their requirement. According to the recommendation made in "THE ANGANWADI WORKERS (EMPOWERMENT AND WELFARE) BILL, 2018" by "SHRIMATI SUPRIYA SULE, M.P" , the salary should be indexed to market inflation.
What is the meaning of salary indexed to market inflation
Businesses or governments use this type of indexation to match an employee's salary increases to the inflation rate, meaning that an increase in the consumer price level over a period of time will lead to an increase in salary. This particular type of indexation is called a cost of living increase (COLA). The use of indexation mitigates the impact of inflation against a worker's standard of living. Without this kind of indexation, most workers would effectively be getting a real wage cut each year as inflation cuts into the purchasing power of their nominal wages. There are still possibilities for economic changes to force some disparity between salaries and the pace of inflation.
What additional costs will the government incur as a result of raising honorarium?
If we calculate salaries considering the number of Anganwadi workers present in each state in accordance with state-wise inflation rate, we can get an idea of the amount that the government might have to spend on only the honorarium of Anganwadi workers. 
The base year used in below is 2012(100) and it is Major State/UT wise year-on-year inflation rates (%) for November 2021 (Provisional)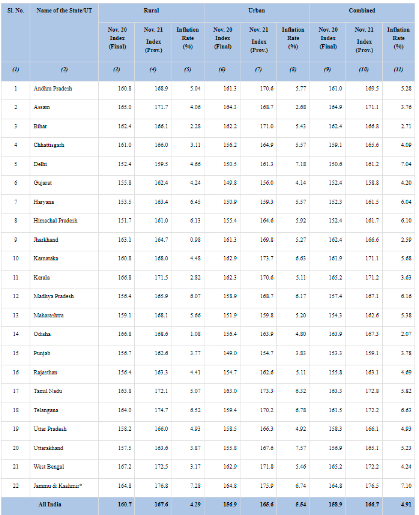 The table below shows "Honorarium/Wages to Anganwadi Workers" indicating State/UT-wise number of sanctioned and operational Anganwadi Centres (AWCs) and Workers/Helpers/Supervisors engaged therein as on 30.06.2021
For instance, if we take Andhra Pradesh whose inflation rate is 5.28% with total AWWs 54011 and each month salary being ₹4500, the amount that Andhra Pradesh government would need to spend on per Anganwadi worker will be ₹23,760, considering the total workers, the total amount needed to be spent for a month would be ₹128 crs. Same goes with other states as well. 
[Calculation used- State's inflation rate is multiplied by the monthly salary offered by the government to calculate the amount that the government would need to spend on per worker, then to know the total amount, the result should be multiplied by the total number of workers working in a particular State/UTs.]
Recommendation- The salary should be increased according to the hours Anganwadi workers and helpers work for. It should be increased from

₹ 4500 to minimum

 

₹10000, not fully neutralising the inflation but at some degree is in accordance with the increased level of cost of living.  
The second issue is the delay in the payment of honorarium to these workers.  Recommendation- If there is a delay in the payment of Central Government share of wages to the anganwadi workers and anganwadi helpers or its contribution to the anganwadi centres, then, there should be a penalty to be paid to workers in case of delay in the payment of their monthly wages. For instance, the Central Government can pay monthly interest at the rate of twenty per cent, on its wage share for the entire delay period.
Same goes with the respective State Government, where the state can  pay monthly interest at the rate of fifteen per cent. on its wage share for the entire delay period. This recommendation was made in "THE ANGANWADI WORKERS (EMPOWERMENT AND WELFARE) BILL, 2018" by "SHRIMATI SUPRIYA SULE, M.P", which is still not made applicable in status quo.
The third issue is the lack of statistics on whether benefits under yojanas, paid maternity leave, and insurance facilities are actually being given to these workers. To analyse the impact of these employees on ICDS schemes or to identify the regions where the facilities need to be more effectively implemented in that region of the country, surveys for these groups of women are not readily available. There is no official data on how much money is demanded by these workers as an honorarium.
The fourth issue is the absence of adequate training for the use of the Poshan tracking app which was mentioned in "Mission Saksham Anganwadi and Poshan 2.0". Most women demanded information and more awareness regarding this app. 
Recommendation- A proper training camp or group should be established for these women to better understand the working of this app, and the queries and uncertainties regarding this app should be solved by the experts of this group. There is a need to make women understand 'why it is important to use this app and how it will benefit them and the people they are working for'.
Protests by Anganwadi workers
A number of states, including Delhi, Haryana, and Jammu & Kashmir, have recently seen protests. Anganwadi workers in these states were calling for better working conditions for women and a pay increase that took inflation into account. In Haryana, workers always felt like being under surveillance while using the Poshan tracker app, as proper information and training was not provided to Anganwadi workers. 
Women in Kashmir wanted their remuneration to be  equivalent to that of workers of other states; however, there is no data on the amount of honorarium the central government provides to them or any additional honorarium being provided to Kashmiri Anganwadi workers. 
The Delhi government served termination notices to 884 Anganwadi workers and issued show cause letters to 11,942 others for taking part in a 39-day strike earlier. This shows that the voices of workers are being silenced by informing them that protesting will result in termination notices from the government.
Conclusion
Anganwadis are considered to be the backbone of India's grassroots social services platform for women and children. They go door-to-door educating people about maternal and child health, immunisation, and sanitation, as well as enrolling them in health programmes and monitoring the results. Yet, Anganwadi workers do not receive regular pay despite the crucial role they play in addressing India's health challenges, in part because their employment is intended to be voluntary and part-time. However, due to regional demands, the majority end up working full-time. Therefore, payments should be made in accordance with the number of hours they work, and measures against the state government should be taken to prevent payment delays for Anganwadi employees and helpers.
References
"State wise numbers of Anganwadi workers." (1st August, 2022)
https://pib.gov.in/PressReleasePage.aspx?PRID=1812409 
"Inflation rate release by government" (November 2021)
https://pib.gov.in/PressReleasePage.aspx?PRID=1780967
Honorarium to Anganwadi workers,Shri Naresh Bansal (16th March, 2022)
https://pqars.nic.in/annex/256/AU1740.pdf
Ministry of Women and Child Development "Mission Saksham Anganwadi and Poshan 2.0" (1st August 2022) https://wcd.nic.in/sites/default/files/Final%20Saksham%20Guidelines%20with%20covering%20letter%20%281%29.pdf
"Anganwadi workers protest outside AAP office in Delhi over layoffs", (1st june, 2022) https://www.indiatoday.in/india/story/anganwadi-workers-protest-aap-office-delhi-over-layoffs-1957232-2022-06-01
"Anganwadi workers protest, demand pay hike in J&K", (3 March)
https://www.dailyexcelsior.com/anganwadi-workers-protest-demand-pay-hike/
https://rajyasabha.nic.in/Home/Sitemap?query=anganwadi+workers
Click here to download PDF.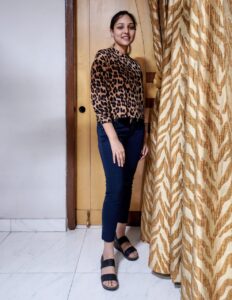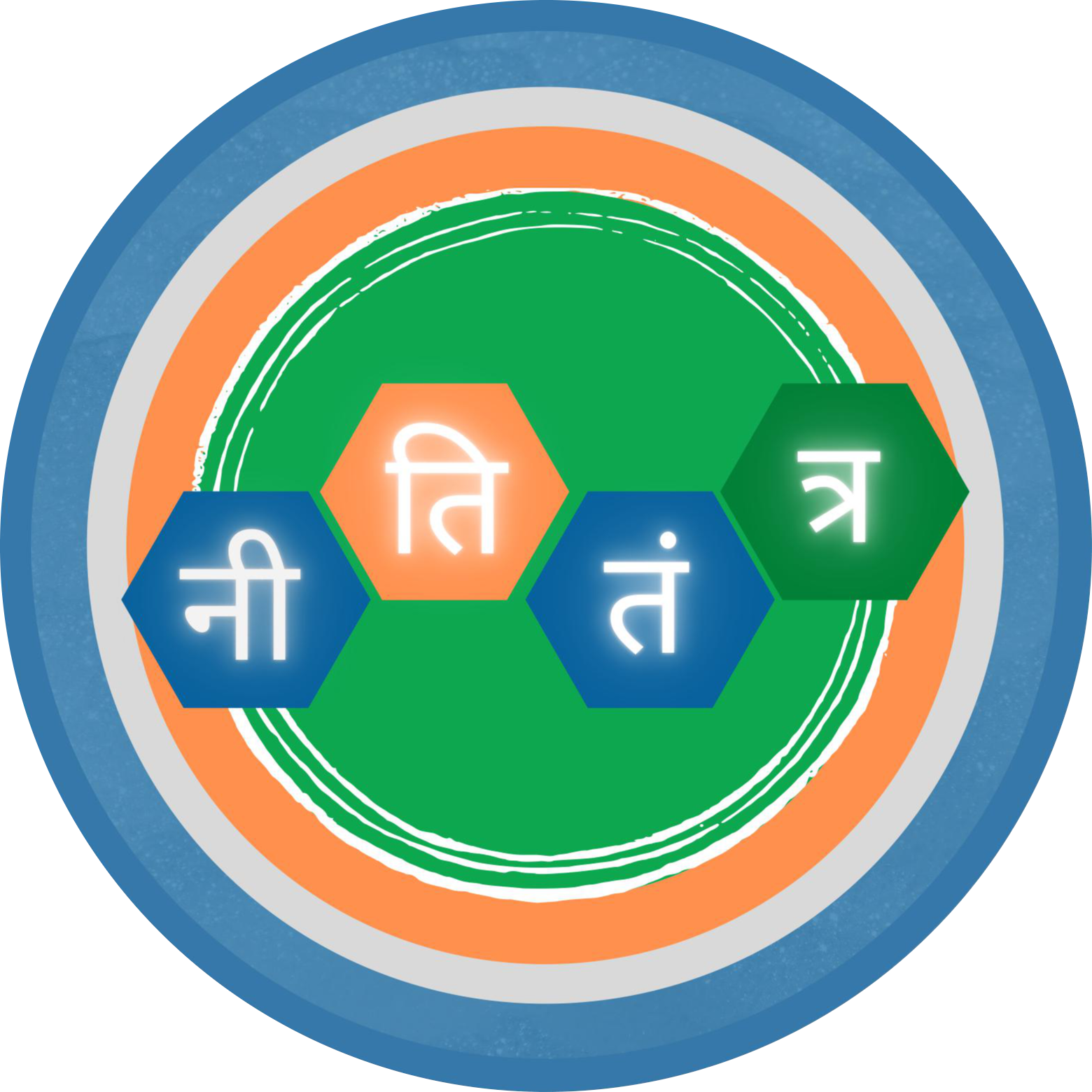 📌Analysis of Bills and Acts
📌 Summary of Reports from Government Agencies
📌 Analysis of Election Manifestos